-84%
Rs.
300
Rs.

1,999
in stock
Last update was on: November 7, 2021 4:47 am
This Power Bank, keep your smart devices charged all the time so that you do not miss any important call, email, or app notification. This portable device comes with Micro USB Inputs, LI-POLYMER-based Batteries, and Multi-protection features to ensure that you can safely charge your smart devices anytime anywhere.You can charge two devices simultaneously using this power bank. It has Micro USB inputs to make it a useful power bank to charge different devices.
-22%
Rs.
2,699
Rs.

3,499
in stock
Last update was on: November 7, 2021 4:47 am
Be it on your travels or during power cuts, you can ensure that your smartphones, tablets, and other devices don't run out of charge by getting the Mi Boost Pro 30000 mAh powerbank. Equipped with unique resistance-capacitance sensors, this powerbank's lithium-polymer battery ensures efficient and safe performance. It is equipped with three output ports to help you charge up to three devices simultaneously. Moreover, this powerbank features a strong 16-layer Circuit Protection design to prevent damage from overheating, short circuits, and overcurrent situations.
-23%
Rs.
999
Rs.

1,299
in stock
Last update was on: November 7, 2021 4:47 am
Keep your devices well-charged at all time with this Mi power bank. While its dual USB input helps you charge two devices together, its smart power management lets you switch it to 2-hour low charging mode to charge low-power devices with ease.
-20%
Rs.
3,999
Rs.

4,999
in stock
Last update was on: November 7, 2021 4:47 am
The all-new Mi Power Bank Hypersonic 20000mAh 50W is our Fastest and most versatile power bank yet. This power bank can easily charge power delivery supported laptops at 45W, can charege mobile devices at 50W max output and can recharge its high capacity battery of 20000mAh in just 3hrs and 50mins at 45W max. The power bank features Triple output port and Type-C input port with two-way fast charging without compromising on the number of devices it can charge. Mi Power Bank Hypersonic 20000mAh 50W supports Power Delivery 3.0 and offers advanced 16 layers of chip protection and comes with smart power management which allows you to safely charge low power devices such as Bluetooth headsets, Fitness bands, etc. All you need to do is simply double press the power button to enter 2-hour low power charging mode. It comes with high quality Lithium polymer battery which is safer than standard lithium ion batteries and improves the conversion rate. It comes with a matte black finish which gives power bank a premium look.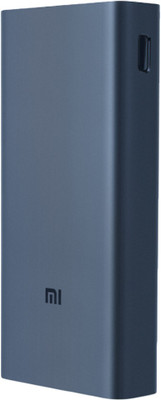 -22%
Rs.
1,699
Rs.

2,199
in stock
Last update was on: November 7, 2021 4:47 am
Don't let your devices run out of battery while you're away with this Mi power bank. Thanks to its 18 W fast charge support, this power bank helps you charge your devices quickly and efficiently. It also helps you charge almost all types of devices, such as smartphones, fitness bands and Mi wireless earphones and tablets.
-76%
Rs.
599
Rs.

2,499
in stock
Last update was on: November 7, 2021 4:47 am
Power Bank is a high quality product manufactured by using best quality components and parts including high capacity original A grade Cell Lithium –Ion. This Power Bank Support various models of smart phones manufactured by various companies including Samsung, Sony, Microsoft etc,